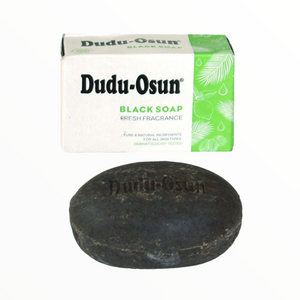 New! Dudu-Osum African Black Soap 5.2oz
African Black Soap | "Dudu-Osun" Black Soap | Face Soap | Natural Skincare
Dudu Osun Black Soap is crafted entirely from natural ingredients and herbs, many handpicked in Africa this soap will have you feeling refreshed and silky smooth. Dudu Osun restores damaged skin and is helpful in healing chronic eczema, acne, freckles, and dark spots.

African Black Soap has many benefits:
Firms and tones skin to give a youthful appearance.
Helps exfoliate dead layers of skin, revealing beautifully radiant healthy skin cells.
Gets rid of acne, deep cleans and purifies the skin at a cellular level.
Helps even out dark spots and discoloration on the skin.
Gets rid of all traces of makeup.
Perfect for healing skin conditions.
Ingredients: Pure honey, Shea butter, Osun (Camwood), Palm kernel Oil, Cocoa pod ash, palm bunch ash, Aloe Vera, Lime Juice, Lemon Juice, Water and Fragrance.
Dudu Osun Black Soap can be used daily. Perfect for all skin types. Ideal for sensitive skin. Store your soap in a dry area after use. Always test on a small area of the skin before use. This products contains oils from nuts.